A recent Wall Street Journal article spotlights one of the hottest segments of the real estate market: fix-and-flips. The author, Ryan Dezember, profiles individual investors and their success and then goes on to highlight Roc360's leadership role, not only as a leading capital provider to residential real estate investors, but also as a pioneer in developing cutting-edge data science to identify houses ripe for fixing and flipping.
The key challenge facing the market today, according to the article, is the supply and demand gap–while Wall Street is willing and eager to provide funding, the inventory of houses that can be renovated and sold at a profit is scarce.
Ed Stock, a Roc360 customer profiled in the article, typifies market conditions today. "It's the greatest time to be in this market; it's just hard to find the inventory." Ed started fixing and flipping houses on New York's Long Island after the 2008 mortgage meltdown. He expects to do about 15 flips this year, well below the 53 he undertook in 2014 when foreclosures flooded the market.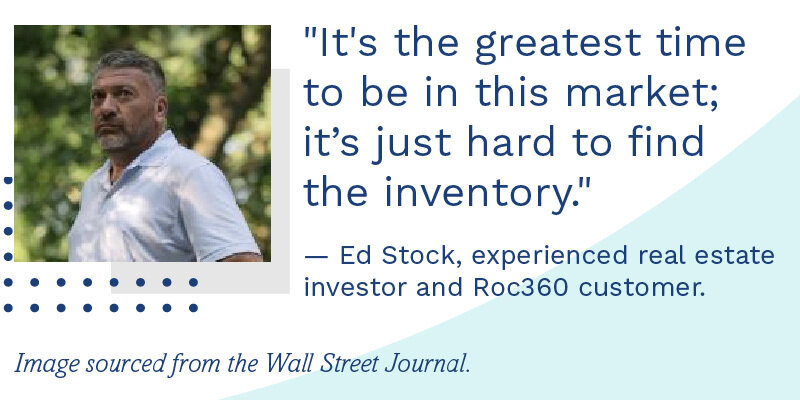 Roc360 is one of the few entities in the market well-positioned to address both supply-side and demand-side challenges. It has both the capital to fund professional, experienced flippers, as well as the tech platform to identify a wide variety of investment possibilities, such as houses with the greatest fix-and-flip potential — quickly, and with predictable returns.
One of Roc360's core strengths is its technology-driven approach, explains Dezember. It has successfully adapted the sort of technology that CEO Arvind Raghunathan and his team used at quantitative-trading hedge fund Roc Capital Management to pick stocks and bonds to now find the best borrowers in the fix-and-flip world.
The company's track record, as described in the article, speaks for itself. "Since it began in 2013, Roc360 has funded about 15,000 loans, which average roughly $350,000. This year, the firm expects to lend $3 billion and […] plans to boost its output to more than $4 billion in 2022." 
It's this track record that resulted in Roc360 receiving a $2 billion infusion from insurer Athene Holding Ltd. CEO Arvind Raghunathan is confident that Roc360 would have little trouble raising several billion more, "given the hunt for yield that has sent investors into less-familiar pockets of fixed income." 
"These notes have done extraordinarily well the last eight years," Arvind says. "There have hardly been any losses, and 8% for one-year paper is extraordinary."
Onward and upward, Roc360!